Cart (

0

)
You qualify for a free gift!
Your cart is currently empty.
adidas x Bogey Boys | Exclusive collaboration
Launching 06.14.23 | adidas x Bogey Boys collaboration with Grammy-award winning artist Macklemore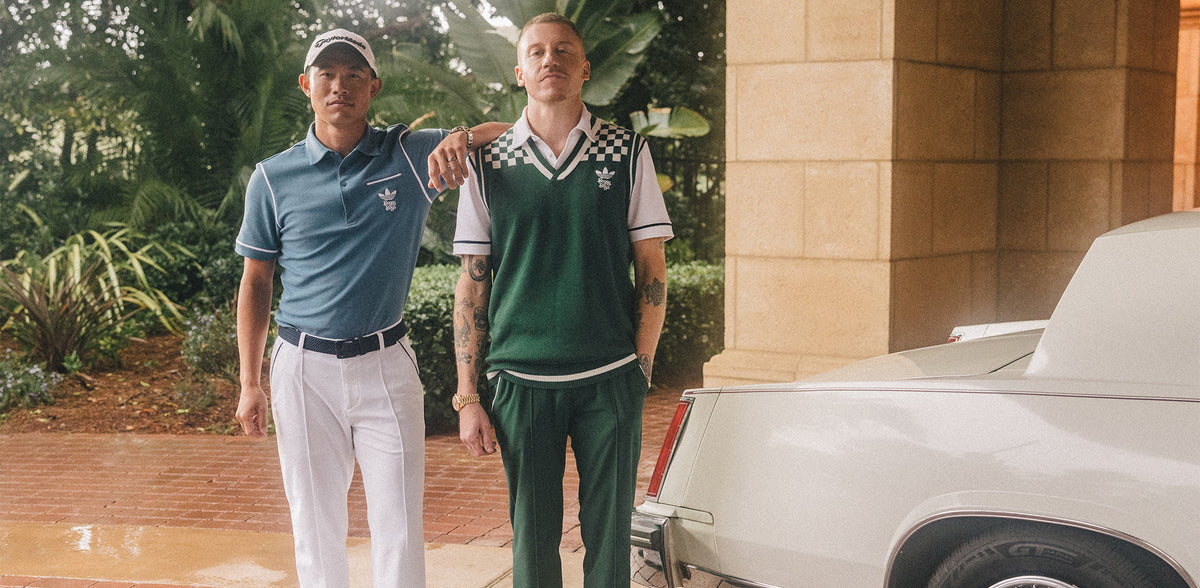 Grammy award-winning musician Macklemore has consistently been regarded as a fashion icon. His unique blend of music and vintage attire has made him a notable figure in the fashion world.
Recently, Macklemore delved into the realm of golf, recognizing the need for a fresh touch of style in the sport. This realization led him to establish Bogey Boys, a brand specializing in golf and lifestyle apparel.
Bogey Boys rapidly gained popularity and has now joined forces with Adidas to introduce a new line of clothing and footwear. This collaboration showcases classic designs for both men and women, featuring crisp white and blue shades.
Dylan Moore, senior creative director of adidas golf said of the collection,
"As the original sports brand, we've been designing product for sports like golf and tennis for more than 50 years. As we continue our mission to be the most progressive golf brand in the world, this heritage gives us the luxury of revisiting our extensive archives for inspiration. Those now-retro designs were inspiring to us, and we know that golfers are once again looking for products that present classic, clean and bold aesthetics with an attitude. Macklemore and the Bogey Boys team were the perfect partners for this because of their love for vintage apparel and eye-catching designs."
Macklemore expressed his excitement about the collaboration, stating, 
"This collab is a full-circle moment for me and getting to be a part of the first apparel collection to use the Trefoil for Adidas Golf is special. Taking inspiration from the iconic Originals brand and styles from the 70s and 80s is a perfect fit with Bogey Boys. I love how the entire collection turned out – premium and performance fabrics that you can rock on and off the course. Can't wait for this one to be out in the world." 
The Adidas x Bogey Boys collection will be available for purchase on TRENDYGOLFUSA.COM on 06.14.23.
Latest Articles

4 min read
Swing into Style: Embracing Vintage-Inspired Golf Clothing
In the world of golf fashion, there's a timeless allure to vintage-inspired golf clothing that continues to captivate golf enthusiasts and fashion-forward individuals alike....
Read more

4 min read
Nike Air Jordan x Travis Scott Golf Shoes Launch Event
A launch event that positively disrupted the $130 billion sneaker industry…
Read more
4 min read
Fusion of Style and Beats: Puma x Kygo PTC Collection is here
In a thrilling collaboration that transcends both fashion and music realms, Puma Golf and Kygo's Palm Tree Crew have joined forces to...
Read more
From the UK?
You may wish to visit the UK store
TEST
TEST