Cart (

0

)
You qualify for a free gift!
Your cart is currently empty.
Father's Day Gift Guide
Shop our favorite gift ideas for dad.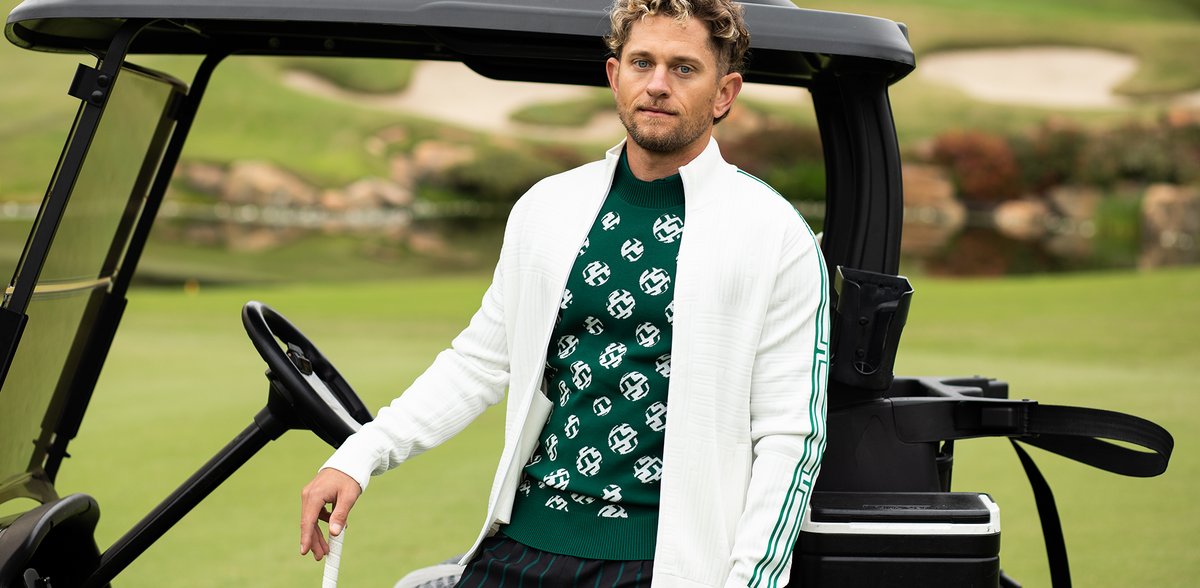 Father's Day is just around the corner, and we're here to help you find the perfect gift for every dad in your life. Whether he's a seasoned pro, a casual weekend golfer, or just starting to discover the joy of the game, we've got you covered. 
Explore our curated guide below.
The Classic Dad:
For the dad who appreciates timeless style and elegance, consider a classic golf polo in a neutral color like navy or white. Pair it with a sophisticated golf cap and a stylish leather belt for the complete classic look. This ensemble will ensure your dad looks sharp and sophisticated on the fairway.
The Fashion-Forward Dad:
For the dad who likes to stay ahead of the fashion curve, explore our trendy golf apparel collection. Choose from modern patterns, vibrant colors, and sleek designs. Consider a stylish golf shirt with a unique pattern or a bold color combination, paired with slim-fit golf pants or shorts. This gift will make him look fashionable and confident on the course.
The Golf Accessories Lover:
If your dad enjoys accessorizing his golf game, there are plenty of options to choose from. Consider a premium golf bag with multiple compartments and features to keep his clubs organized. You can also opt for a high-quality golf glove, a new pair of shoes, or a hat to protect him from the sun. These accessories will add a touch of style and functionality to his golfing experience.
The Fitness-Oriented Dad:
For the dad who prioritizes fitness, athleisure is the perfect way to go. Joggers, t-shirts, casual shorts and a pair of sneakers are easy to wear from the gym to the driving range. Whether he's hitting the gym, going for a jog, or spending quality time with the family, athleisure is the perfect choice for the active and fashion-conscious dad.
The Golf Dad on the Go: 
Dads on the go, juggling work, golf, and taking care of the kids, have a lot on their plate. Give them a gift that simplifies their life, such as a comfortable sweatshirt for post-range sessions or a stylish polo that can be worn daily. Opting for simple, versatile essentials is the way to go. 
The Golf Aficionado: 
For the golf-aficionado dad who lives and breathes the game, finding the perfect gift requires understanding his deep passion for all things golf. Consider gifts that enhance his golfing experience and reflect his dedication to the sport. A long-lasting moisture-wicking polo that will withstand seasons of play or a reliable waterproof jacket that ensures he can enjoy the game regardless of the weather conditions will make his golf journey even more exceptional. Shop our handpicked favorites below.
Gifts Under $100:
For the dad who is a new golfer, embracing this exciting journey on the greens opens up a world of possibilities. Help him kickstart his golfing adventure with thoughtful gifts that will support and encourage his progress. A breathable polo shirt or lightweight golf shoes, will ensure he looks and feels his best on the course.
Latest Articles

4 min read
Swing into Style: Embracing Vintage-Inspired Golf Clothing
In the world of golf fashion, there's a timeless allure to vintage-inspired golf clothing that continues to captivate golf enthusiasts and fashion-forward individuals alike....
Read more

4 min read
Nike Air Jordan x Travis Scott Golf Shoes Launch Event
A launch event that positively disrupted the $130 billion sneaker industry…
Read more
4 min read
Fusion of Style and Beats: Puma x Kygo PTC Collection is here
In a thrilling collaboration that transcends both fashion and music realms, Puma Golf and Kygo's Palm Tree Crew have joined forces to...
Read more
From the UK?
You may wish to visit the UK store
TEST
TEST